Digital Skills for Heritage is designed to raise digital skills and confidence across the whole UK heritage sector.
Helping the sector thrive
More than ever, heritage organisations are looking to develop their use of digital technology. Our Digital Skills for Heritage initiative, launched in February 2020, is designed to help them thrive.
Digital keeps people connected to heritage. It can help heritage organisations weather the coronavirus (COVID-19) pandemic and move into a more resilient, creative future. 
We are offering a range of activities and resources to reflect the varying needs, locations, sizes and levels of digital experience of heritage organisations.
New training, resources and funding will be available later in 2021 – check back at this web page for more info. 
Sign up to our newsletter for updates
Sign up to our newsletter and tick the 'digital' box to get the latest news about Digital Skills for Heritage to your inbox.
---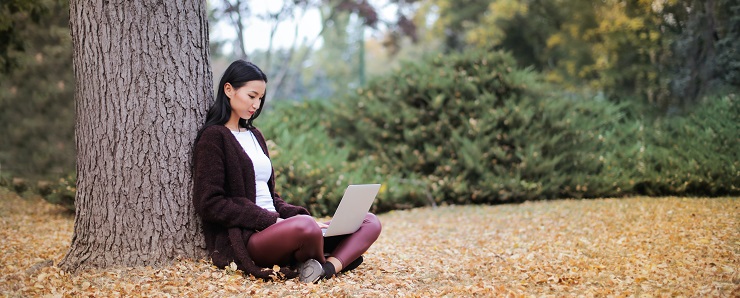 ---
Raising Confidence Digital Help Desk
Have a burning question about digital? Want to use digital technology to drive success, creativity and resilience where you work or volunteer but don't know where to start?
The Raising Confidence Digital Help Desk is here to help. This free support service is for people who work with heritage but are just at the beginning of their journey with digital. All questions – no matter how big or small – are welcome and encouraged. Know someone who might benefit from contacting the Help Desk? Please pass on the news!
The Help Desk's expert team have vast experience consulting for a wide range of heritage projects – from the UK's major museums and iconic landscapes right down to small projects that care for community heritage and local treasures. They have consulted on many projects that have received funding from The National Lottery Heritage Fund. Find out more about the team.
They will respond with friendly advice and walk you through your options on the phone, providing tailored support on a one to one or small group basis. The service is open to people working across the UK. 
They will particularly be covering the following topics:
•    getting started with digital
•    fundraising
•    communications and marketing
•    creating and running a website
•    biodiversity and heritage monitoring
•    environmental monitoring
•    organising digital collections
•    ticketing and visitor experience
•    working online
Submit your enquiry to the Help Desk today and start putting digital to work in your organisation. Don't miss this time-limited opportunity – the service is open for enquiries from 26 July to 30 August 2021.  
The team will aim to reply within five working days. Where tailored support isn't possible, the team will sign-post enquirers to wider help and resources.
 
---
This free programme is managed by the Arts Marketing Association in partnership with Arts Fundraising & Philanthropy, One Further and The Collections Trust. Activities are designed for small and medium UK heritage organisations seeking to develop their digital capabilities. 
Most activities for the lab have now come to an end, but you can still watch recordings of workshops, training events and bootcamps that will help you get to grips with digital.
Heritage Digital is a digital skills programme led by The Heritage Alliance and supported by Media Trust, Charity Digital and Naomi Korn Associates. This programme offers training, masterclasses and resources focusing on marketing, engaging audiences, intellectual property, data protection and online business tools and processes. 
Running until July 2021, Heritage Digital will support over 700 heritage organisations.
Culture24's Leading the Sector was a professional development course in Digital Leadership. A cohort of 16 leaders from medium-to-large heritage organisations across the UK took part. We will discover what they learned and how it can be used by other leaders later in 2021.
---
Digital guides
We have produced free digital guides to help heritage organisations get started in key digital areas:
---
Driving Innovation, Enterprise and Collaboration
In March 2021 we announced a new round of awards. These will help heritage organisations make use of digital to respond to current challenges and equip the sector for the future.
Details of how to take part will be available soon – check back to this page and sign up to our newsletter to stay updated. The projects are:
Taking Digital Forward: Charity Digital Trust will provide free training and events to help small-to-medium sized heritage organisations use digital to drive business resilience and success.
A new online digital resource centre for the heritage sector. Three teams from Arts Marketing Association, University of Leeds and The Heritage Alliance will work together to research and answer the heritage sector's 100 most pressing digital questions in a range of free online learning resources. Topics will include digital engagement, creating content, recovery planning and digital leadership.
Connected Heritage: We have funded eight networks to support communities of practice to pool resources and expertise around particular heritage areas. The networks will open up heritage topics to a wider range of people, bringing new understanding and increased relevance.
---
Discover more digital resources, useful information, great digital projects and initiative updates below: