Advice: what is an 'inclusive' project?
Find out who is missing as an audience or on your team, make plans to involve them, and remember that being inclusive is an ongoing process.
Every project we fund must achieve our inclusion outcome: a wider range of people will be involved with heritage.
Both the Department for Digital, Culture, Media & Sport Taking Part survey and Monitor of Engagement with the Environment demonstrate how unfair current access to heritage is. 
We believe everyone should have the opportunity to benefit from National Lottery funding. And that more inclusive heritage is more sustainable in the long term. 
In short, we want to help give more opportunities to people with "protected characteristics", as well as from lower incomes, to get involved in heritage. Protected characteristics include:
age, including young people aged 11–25, and older people
disability, including mental health, learning disabilities, and dementia
gender reassignment
race, religion or belief
sex and sexual orientation
Three things "a wider range of people will be involved with heritage" can mean:
You welcome everyone to take part.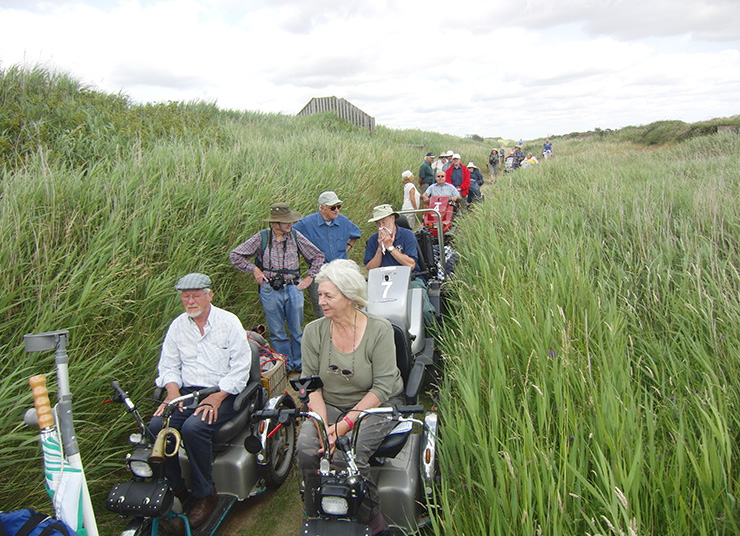 The paths around Minsmere Nature Reserve make it a delight to visit with a mobility scooter or powered wheelchair. Credit: Disabled Ramblers
Think about how you are welcoming a "wider" range of people, whether it's digitally through your website or social media, in your marketing material or in person.
Talk to people you want to visit or get involved, identify what you need to plan and then budget for this.
You tackle disadvantages that people with low incomes or a lack of previous experience can face in getting involved in heritage.
Do not offer unpaid internships. These are unfair to those who have fewer resources. We will fund paid internships as part of your project. 
Do think about asking for transferable skills such as communication, budgeting, digital or great "people" skills instead of formal qualifications, particularly postgraduate qualifications, which can exclude people.
Local skills are important. Discuss with local communities and networks what skills and assets already exist such as community transport or a Dementia Friends café. 
For example, the Leeds Eulogy project involved a wide range of people through partnerships, shared interests in photography and by listening to elders
Your project meets people's needs where they are different to those of others. 
Where you can, install accessible and gender neutral toilets. High-value projects should install Changing Places toilets, which are larger and have more facilities.
For example, Holywells Park in Ipswich installed Changing Places toilets as part of their National Lottery Heritage Fund grant, and saw an increase in accompanying families and friends.
If you are organising an event, you can include the costs of hiring a Changing Places facility in your budget plans.
Ten ways to measure and prove that "a wider range of people will be involved in heritage"
We want to see that you are planning to involve a variety of people in your heritage project as visitors, participants, volunteers and workers.
In your evaluation, we will want to see how you tried to do this, and how successful you were.
You will need to measure (by collecting data) your impact, and also prove that you achieved our outcome.
Do plan your methods and include evaluation costs in your budget from the start. 
 
Don't forget qualitative data: staff, volunteer and visitor experience. This could include comments, journals or structured interviews.
 
Do survey who works or volunteers in your heritage organisation. This will help you find any gaps in the demographic of your workforce.
 
Do research your current audiences and the communities you work with (regional, local or national). Begin by mapping your neighbourhood, including local voluntary groups, faith centres, food banks. Consider the groups with protected characteristics. Invite people to an open event to share your ideas. Who is missing?
 
Do investigate your local demographics. The Office for National Statistics data provides national and local level information. 

These figures can help you make a baseline for any improvements you want to achieve.
 
Don't forget to be "intersectional". We all have multiple identities (for example, as a disabled child, a young person with mental ill health, an older lesbian). This will help you think further about any gaps in your plans.
 
If you are applying for a grant of over £250,000 we will expect you to do formal audience development work.
 
Try to embed a "culture of impact" within your organisation. Collect good quality data regularly and use your findings to make plans and decisions. Methods may include questionnaires, interviews or focus groups.
 
Think about any ethical issues around trying to collect information. For example, you may have to consult with vulnerable people through a third party which might take more time. 
 
Do share your learning with people within your organisation, funders and stakeholders. It helps ensure transparency, accountability and can highlight how improvements can be made. You can use this learning as the basis for future projects.
Project A History of Place led by Accentuate shared exemplary learning and toolkits on their website.
One more thing...
There is no "one size fits all" approach to doing this. Your approach will depend on your own organisation's particular circumstances, size and location, and also the size of your grant. Inclusion is a process and a work in progress for all of us.
Next steps
Everything you need to know about reaching our mandatory outcome is included in our Inclusion guidance.
 
You might also be interested in...