Museums should be like public squares - for everyone to enjoy
I have loved learning since I was a child, but museums haven't always felt welcoming to me. Many have improved, but the story's not over yet.
I was seven years old and on a school trip the first time I entered a museum, and it changed my life forever.
Standing and screaming in a room that actually shook to recreate the different levels of Richter scale during an earthquake was an intellectual watershed moment for me.
Up until then, my life as a British Asian kid revolved around toys, school and casual racism from classmates. The "Earthquake Room" in a museum in London changed all of that. This unique experience viscerally taught me science and learning could be fun.
Passing on a love of learning
This summer my own twins turned seven and I decided to take them on their first trip to the Science Museum.
We left after many hours of joy and it felt obvious to me that in our tech-driven, experience-centred, Instagrammable culture, institutions like the Science Museum are more alive than ever. 
But that day I sent a tweet about my experience which seems to have resonated with a lot of people.
Off to the Science Museum with my twins today. All of us VERY excited.

My generation didn't get to do this stuff when we were young because

a) Our migrant parents didn't know what the science museum was.
b) They worked till they dropped & didn't have time.

My kids are lucky.x

— Bobby Friction (@bobbyfriction) July 26, 2019
Cold eyes in the museum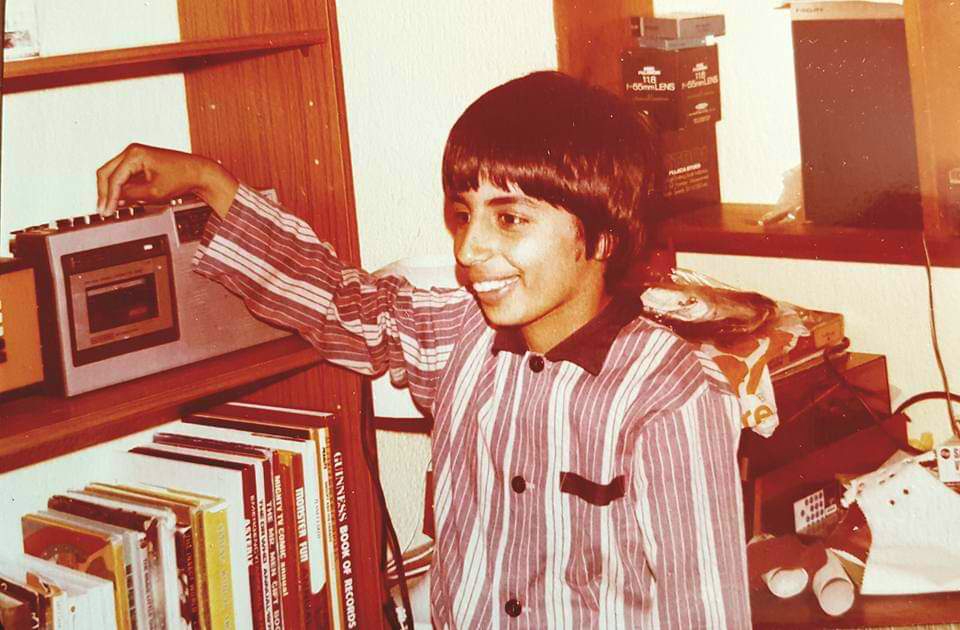 My mum and dad, immigrants from India, would never have taken me to a museum. It's not that they were anti-intellectual. They were actually the opposite: showering me with books and inducements to study. They had a keen interest in my educational life as a kid.
They just didn't get what museums had to offer. Museums seemed like fussy, musty places, inextricably tied to the establishment for them I think… The kind of places where people would go silent when you walked in and looked at you with cold eyes.
Believe me; growing up in the 70s and 80s here in the UK as people of colour those cold eyes were a daily experience. 
Feeling out of place
There was also the added pressure of money in an immigrant household. Whether you had money or not, in a home like I grew up in all kinds of frivolous expenditure wasn't tolerated. That's true I think across the planet within immigrant communities. Museums always seemed like upper-class spaces to us growing up, with (true or not) upper-class price tags to match. I wouldn't be surprised if that's still the case for newer migrant families.
It was going to be up to me to explore these places on my own.
In my early teens, I spent a lot of time hanging around libraries and soaking up all the information I could. As I grew older, I decided I was to become a rock'n'roll intellectual, and I threw myself into all of London's museums. I did the old establishment museums, the classic-looking ones, and the modern ones with architecture to match.
At first I pretended to enjoy the experience, but after a while I couldn't lie to myself anymore.
I found many of them boring and most of the time I just felt out of place and uncomfortable. Imagine that: trying to learn and expand your mind, but feeling you shouldn't be there in the first place. 
Making everyone feel welcome
I understand that many of those museums are now very different places from even 20 years ago. But more change is still needed, particularly in how the staff reflect who their visitors are, and who those visitors could become. 
The glorious thing about the Science Museum is that my twins were talked to by what seemed like learned teacher types with a zest for what the kids wanted. They were equally good at speaking to me about interstellar space, thus keeping all of us happy.
It really felt like an intellectual British public square that we all owned and had a right to occupy. The staff responded to us as worthy British citizens who also had an ownership of the institution. 
I will leave the arguments about content and curation to people more in the know than me, but I think that that feeling of everyone being welcome in our country's museums is vital. It should be a welcome that is full on, warm, educational, cross-generational and open to every class and colour.
The Earthquake Room opened up a lifetime of learning for me, and I want my children – all children, of all nationalities and class backgrounds – to have that kind of experience. 
How we are helping to open up heritage
At The National Lottery Heritage Fund, ensuring that a wider range of people will be involved in heritage is a mandatory outcome for any project we fund.
Get inspired with some of the projects we have funded so far.
You might also be interested in...