Kick the Dust Norfolk Journeys: helping young people into work
Discover how a heritage-themed work experience programme is helping young people to develop crucial skills and secure employment.
Page last updated: 5 July 2022
Lockdown has been tough for many young people, both socially and in terms of education and career development. The number of young people in employment remains lower than before the pandemic, despite unemployment returning to pre-pandemic levels.
Kick the Dust Norfolk Journeys is seeking to address this by helping young people to get involved in heritage-themed work experience, volunteering opportunities and creative projects. 
An opportunity to build workplace skills
The Western Area Kick the Dust Work Experience programme brings 14-25 year olds together with staff at Stories of Lynn Museum in King's Lynn. Here, young people are supported to build workplace skills they would like to focus on - such as public speaking, curation, or writing for a professional audience.
The 13-week programme works closely with local schools and other partners to support those with additional health and learning needs, as well as those experiencing disruption in their lives.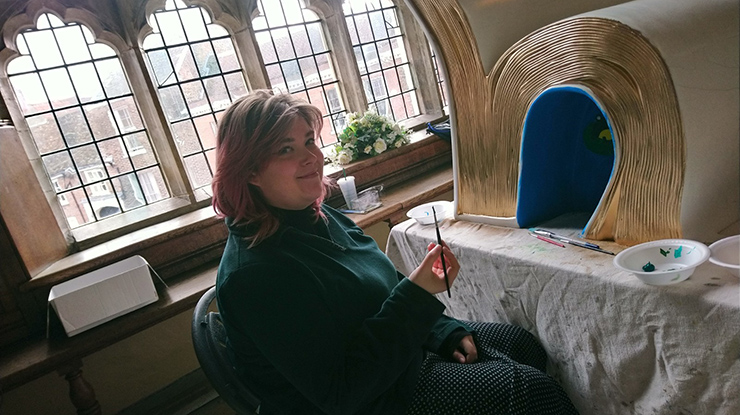 Painting a permanent exhibit for the Explore-a-Book bench trail in King's Lynn
Since its launch in 2020, the programme has been a hit with young people, with all cohorts being filled, and some additional sessions being offered to meet demand.
Young people interact with staff from all areas of the museum, the local council and Norfolk Museums Service. Activities are tailored to the skills that each cohort would like to develop, and the young people regularly record and reflect on their progress.
Hands-on experience
In the 'Museum in a Jar' project, young people were given the chance to plan, curate and publicise their own exhibition. They were teamed up with a professional curator and the museum's communications department, who helped them share the exhibition on social media. 
Another project, 'Deal Justly With All', saw young people select objects for an exhibition focused on poverty and homelessness in the local area. This group engaged the local mayor, which helped them gain skills in writing for a professional audience.
As part of the programme, young people were offered mock interviews, so they could reflect on their achievements and learn how to talk about them in a professional context.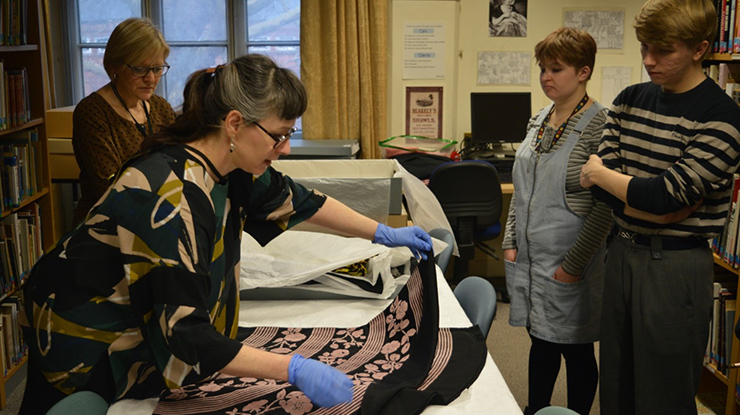 Learning about object handling with the museum curatorial team
Securing employment
Five of the participants went on to secure their first jobs after their placements, including roles in a museum, local councils and a care home. Skills developed included:
design
marketing
professional writing
object curation
teamwork
They also gained an understanding of the heritage sector and their local area. 
Boosting skills and confidence
One young participant said: "[It's] a bit of a surreal feeling to know that I've helped contribute to something meaningful and important for people to think about. I had previously thought projects such as an online exhibition were out of my reach and only when I became an experienced professional would I ever be able to work and create one.''
The biggest impact that Kick The Dust has had on me over the last few months has been my massive boost in confidence! I have taken opportunities that I would normally be too scared to even think about.

Young participant with mental health challenges  
A participant with mental health challenges said: "Since joining the Kick The Dust team in December 2020, I have been offered endless opportunities and gained long lasting skills and contacts.
"The biggest impact that Kick The Dust has had on me over the last few months has been my massive boost in confidence! I have taken opportunities that I would normally be too scared to even think about." 
Another said: "Now, about five months into my journey with them, I have a Kickstart placement with the arts organisation, Collusion!
"[Kick The Dust] are my creative support group that have helped me through this difficult time and inspire me every day to keep taking as many opportunities as I can handle."  
Find out more
These resources provide further information on supporting skills development for young people:
About the authors
This is one of a series of blogs about Kick the Dust, a programme of 12 large-scale projects which are making heritage relevant to the lives of young people aged 11-25. 
Renaisi is a social enterprise that has been helping people and places to thrive for more than 20 years. Renaisi is responsible for the Kick the Dust programme-level evaluation. 
The Centre for Youth Impact brings together practitioners, funders and policy makers to improve services and support for young people across the UK. The Centre brings a youth sector perspective to the evaluation of Kick the Dust.
Kick the Dust Norfolk Journeys is a Norfolk-based programme that empowers young people to get more involved in local heritage. 
You might also be interested in...