How we are helping the people and organisations working across the heritage sector.

Last updated: 14 September 2020.
The coronavirus (COVID-19) crisis is having a significant impact on the people and organisations we work with.
Find out more about the latest funding, advice and guidance below.
If you are concerned about the impact of coronavirus (COVID-19) on your heritage project or organisation, please don't hesitate to contact our Customer Service team.
How we are helping heritage organisations
Coming soon: more funding and support towards longer-term resilience and recovery for heritage organisations. Sign up to our newsletter and follow us on social media to be the first to hear about it.
Support available
We are supporting the heritage sector in the following ways:
the £40million Green Recovery Challenge Fund for environmental charities and partnerships in England (see below)
the Heritage Capital Kickstart Fund (see below)
the Digital Skills for Heritage initiative (see below)
bespoke support via our local teams
a £2m commitment to our network of Register of Support Services (ROSS) consultants in 2020/2021, to provide mentorship and support to organisations in need. In doing so we are also helping several hundred freelancers and self-employed people.
a £4m investment in two enterprise development programmes across the UK for heritage leaders, and business support programmes in all four countries. Find out more about the grants we've awarded.
How we are supporting existing projects
We are continuing to work with, and support, existing projects. 
This applies to more than 2,500 projects in development and delivery where our investment commitments total over £1bn.
We will be as flexible and supportive as we can be during this very challenging time.
For those in development, we still expect to make decisions on delivery grants (although these remain competitive).
New applications are currently closed
We have halted all new National Lottery Grants for Heritage until 2021.
Organisations that have been selected to apply for Heritage Horizon Awards (grants over £5m) will be deferred until the 2021/22 financial year. We will not be opening a further round of funding for Heritage Horizon Awards.  
Green Recovery Challenge Fund
The £40m Green Recovery Challenge Fund has been created to kick-start the nation's green recovery from the coronavirus (COVID-19) pandemic, and create and retain jobs. Grants are available from £50,000 to £5m.
It is open to environmental charities and partnerships in England with projects that are ready to start and can be completed by March 2022. The projects must focus on at least one of the following areas:
nature restoration
nature-based solutions, particularly for climate change mitigation and adaptation
connecting people with nature
Projects will also be expected to support and create jobs.
Applications for grants from £50,000-£250,000 must be submitted by midday on 2 October 2020. For applications over £250,000 up to £5m, there is a two-step process, with initial expressions of interest required by midday on 24 September 2020.
Read the full criteria and application guidance.
Heritage Capital Kickstart Fund
The £15m Heritage Capital Kickstart Fund will support up to 30 heritage capital projects across England that have been paused, delayed or are at risk due to coronavirus (COVID-19).
The funding is part of the government's £1.57bn Culture Recovery Fund package. It will support National Lottery Heritage Fund capital projects currently in delivery, now facing increased costs which puts the project and the outcomes at risk. Over 85% of eligible organisations are located outside London.
The funding will be awarded through closed competition to projects that are nationally and internationally significant or that have vital economic and cultural impact in their place. This means you cannot apply for the funding from us.
Digital Skills for Heritage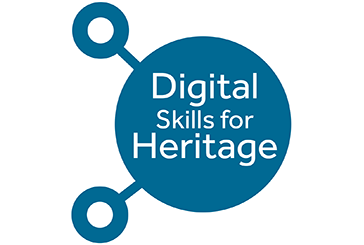 Digital Skills for Heritage is an ambitious initiative designed to raise digital skills and confidence across the whole UK heritage sector.
The coronavirus (COVID-19) pandemic has made the need for organisations to understand and make use of digital more pressing than ever.  
We are working with our partners to better meet the new and emerging needs of the heritage sector. We also want to help organisations develop the skills that will build their resilience long term.  
Further support and guidance for heritage
Government support
Support from heritage and wider sectors
Reopening guidance
England
Northern Ireland
Scotland
Wales
How we faced the immediate challenge
Culture Recovery Fund for Heritage
In August 2020 the Culture Recovery Fund for Heritage (now closed) offered grants of between £10,000-£3million to heritage organisations in England. We are distributing this money in partnership with Historic England, on behalf of the Department for Digital, Culture, Media and Sport (DCMS). This fund will support organisations through to March 2021.
Heritage Emergency Fund
From April-July 2020 our £50m Heritage Emergency Fund (now closed) offered grants from £3,000-£250,000. Thanks to National Lottery players, the Heritage Emergency Fund helped safeguard heritage sites we had previously invested in, and enabled those sites to safely reopen in line with Government guidelines. The fund is supporting organisations through to December 2020.
What you told us
We conducted two surveys in March 2020 to help gauge the impact of the coronavirus (COVID-19) pandemic on heritage sector.
This informed the design of our emergency response. 
You might also be interested in...