Heritage Horizon Awards
Cairngorms National Park Authority
We have awarded nearly £12.5million to a life-changing project aiming to preserve the UK's biggest National Park, bringing communities together to help nature and improve wellbeing.
One of our flagship Heritage Horizon Awards, this project involves over 45 partners ranging from the NHS to Highland and deer management groups. They will work together to tackle climate change and the nature crisis, delivering an economy that works for all.
The Cairngorms in Scotland are home to 25% of all threatened and rare species, such as capercaillie, wildcats, osprey and golden eagles.
This project will enhance the environment and contribute to carbon net zero through:
green finance
woodland expansion
peatland restoration
river catchment management
nature-friendly farming
sustainable transport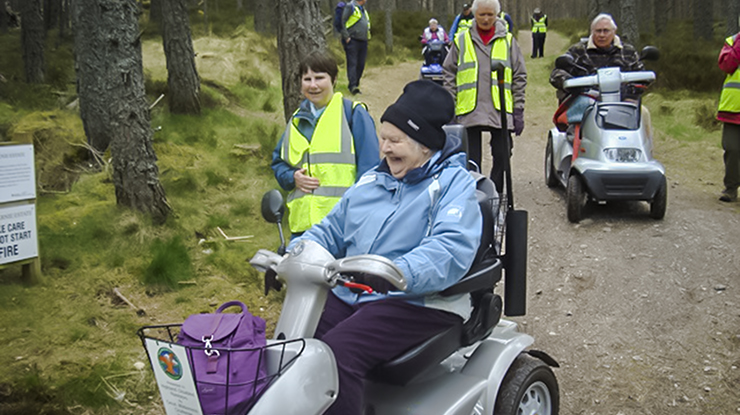 Mobility scooter excursion. Credit: CNPA
There will be a focus on wellbeing for local communities and visitors, including the creation of a nature-based dementia centre. More people will be able to access the landscape and take part in outdoor health and community growing programmes. Community-led lifestyles and citizens' assemblies will empower people to shape a greener future. 
The Cairngorms are a national treasure and this work won't just be transformative for our environment, but for local communities and the hundreds of thousands of people who visit the national park every year.

Màiri McAllan, Scottish Government Minister for Environment, Biodiversity and Land Reform
Xander McDade, Convener of the Cairngorms National Park Authority, said: 
"Our plans are ambitious but the situation facing our country and our planet demands that we do things differently. With the help of National Lottery players, together with our many funding partners, we can now look forward to turning this transformational vision into reality."
Scottish Government Minister for Environment, Biodiversity and Land Reform, Màiri McAllan, said: "This project is a great example of community based action to tackle the twin crises of climate change and biodiversity loss and to improve wellbeing.
"The Cairngorms are a national treasure and this work won't just be transformative for our environment, but for local communities and the hundreds of thousands of people who visit the national park every year."