Real baking challenges from the past
The final of The Great British Bake Off airs tonight. Elise Turner explores our baking heritage and its links to lesser-known stories of the First and Second World Wars.
Like many people, I've spent the past ten weeks watching The Great British Bake Off, where amateur home bakers are set a range of increasingly difficult challenges.
I often wonder though, when the cloth is whipped off a pile of diverse ingredients surrounded by modern equipment, how well the bakers would have done faced with the baking challenges of wartime.
First World War rationing
At the start of the First World War, Britain was dependent on imports of food and by 1917 German U-boat warfare had brought the nation to the brink of starvation. Rationing was introduced along with a campaign to encourage the nation to eat less bread and use home-grown ingredients in their baking.
This was one of the key factors in the popularity of the newly launched Women's Institute, whose cake-baking demonstrations used vinegar instead of baking powder as a raising agent and jam preserved with salt rather than sugar.
"Women's institute baking demonstrations used vinegar instead of baking powder as a raising agent and jam preserved with salt rather than sugar."
The rise of the Women's Institute
During the First World War Centenary, the Pershore branch of the Women's Institute has been exploring how the history of the WI was not all jam and Jerusalem in a National Lottery-supported project. They have been discovering how these proactive women played and important role in the war.
From dishing up for Belgian refugees in communal kitchens to knitting socks for front line troops, the WI helped keep the home fires burning and ensured the nation was fed.
The research of the Pershore WI has inspired a further project, led by the Voices of War and Peace Engagement Centre, to explore how these WI First World War committees morphed into political movements after the war once women received the vote.
Today's Pershore WI also joined forces with nearby National Lottery-supported Pershore History Group and the University of Worcester to write the book How the Pershore Plum won the Great War.
I was fascinated to learn how schoolchildren, prisoners of war, Belgian refugees and Boy Scouts all played a part in the war effort by picking plums, looking after chickens and digging potatoes.
Memories - and bakes - that survived 100 years
It is rare to be able to touch a piece of baking heritage so perhaps my favourite First World War item is the 100-year-old Chelsea bun featured in Leominster Museum's Rifles and Spades project.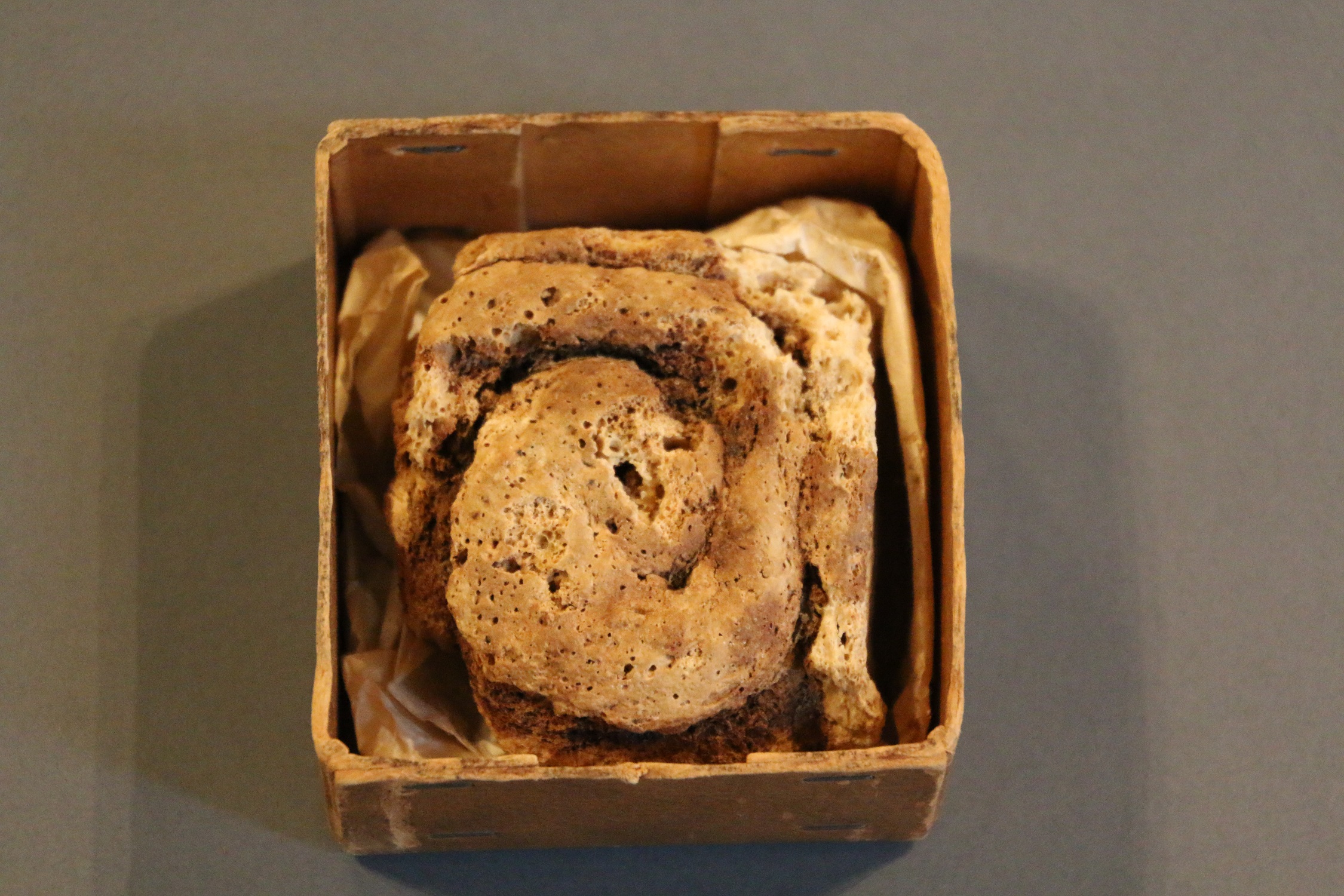 Sent to frontline soldier Alex Hodges by his sister Lily Poston just before the battle of the Somme, the bun was passed from hospital to hospital but never managed to catch up with its intended recipient. Returned to sender, it survived 100 years and was donated by Private Hodges' descendants to Leominster Museum.
Baking during the Second World War
The food and baking shortages of the Second World War are even more famous. B-Art's Bread in Common project, a Newcastle-Under-Lyme-based art group and bakery, interviewed local people about their baking traditions to create an online database.
A shortage of flour during the Second World War meant they discovered recipes for bread made out of peas: not a recipe I think I will try!
Encouraging people to get involved
Perhaps the best thing about these wartime recipes is that they give us a true flavour of what life was really like for those left behind. In our collective memory the hardships they suffered and efforts they made are often overshadowed by the story of troops in the trenches. But these women's stories are equally a part of our history.
I hope these recipes and stories inspire more people to delve into the past and ensure everyone's story is told and remembered.
Of course, these recipes can also still be useful today. They allow bakers with even the most limited ability - like me - to be able to confidently follow the recipe and bring in to work something they made themselves. If it turns out to be awful, overworked or with a soggy bottom, well then, isn't that just an example of the trials and sacrifices people had to face in wartime?
Now, anyone for cake?
Find out more
Join the conversation on Twitter using the hashtag #BakingHeritage.
You might also be interested in...