At the National Lottery Heritage Fund, we want to support an inclusive heritage sector. To celebrate LGBT+ History Month, Liz Ellis highlights some of the LGBT+ heritage projects we have been proud to support.

What better way to celebrate the 15th year of LGBT+ History Month than to announce that in our new funding framework, we are asking every applicant to achieve our inclusion outcome.
Peace and activism at Greenham Common
The theme of this year's history month is peace, reconciliation and activism. So it was it was great to chat with Rebecca Mordan, artistic director of Scary Little Girls and project manager of On the Shoulders of Giants: the legacy of the Greenham Women.
Rebecca is coordinating an online archive to share the experiences of women who took part in the 1980s Greenham Common protests against US and UK military presence. The project is marking the influence of these peaceful demonstrations. In Rebecca's words: "The archive is a treasure trove of gender critical and gender non-conforming women who are busting every single stereotype."
The Greenham Common protest had strong ties with the LGBT+ community. Hannah Schafer was there in 1983:
"I was a 20 year old who grew up in inner-city Liverpool and had just 'come out' as lesbian… Bearing in mind that the culture I grew up in was (and still is) rampantly homophobic, I was both stunned and overjoyed to see how visible lesbians were at Greenham..."
"Moving from Liverpool to Brighton many years later reminded me how important it is for one's mental health to be visible in our communities, to find ourselves both accepted and reflected in our surroundings."
Rebecca is in touch with many women with important stories to share, including a woman raised in a radical nursery founded by Greenham women in 1980s London. She recalled, there were: "no gender roles, committees [as opposed to a director] agreed all aspects of the nursery, and gender neutral clothing was the norm".
As LGBT+, sex and gender rights continue to be challenged, it's critical to be reminded of these peaceful, resilient activists.
Imagining a positive future
Sharing histories of LGBT+ activism also featured in National Lottery-funded How We Got Here. Recently completed by the Proud Trust, it tells the stories of LGBT+ youth and community organisers.

Young people gathered oral histories from LGBT+ activists across North West England and performed a play based on these testimonies. Some visited the lesbian archives held at Glasgow Women's Library and there met two campaigners involved in the Manchester Avengers protest group.
Remembering the past in order to help reimagine a positive future is at the centre of many LGBT+ heritage projects. The latest project from Liberal Judaism, Rainbow Pilgrims, is an online exhibition which gathers the thought-provoking testimonies of LGBT+ migrants.
Bringing history to life
Pride Cymru's work in Wales to erase discrimination on the grounds of sexual orientation and gender identity has contributed to the recent success of a National Lottery Heritage Fund project: Making Our Own World: Inspirational figures for LGBT+ people in reality and fantasy.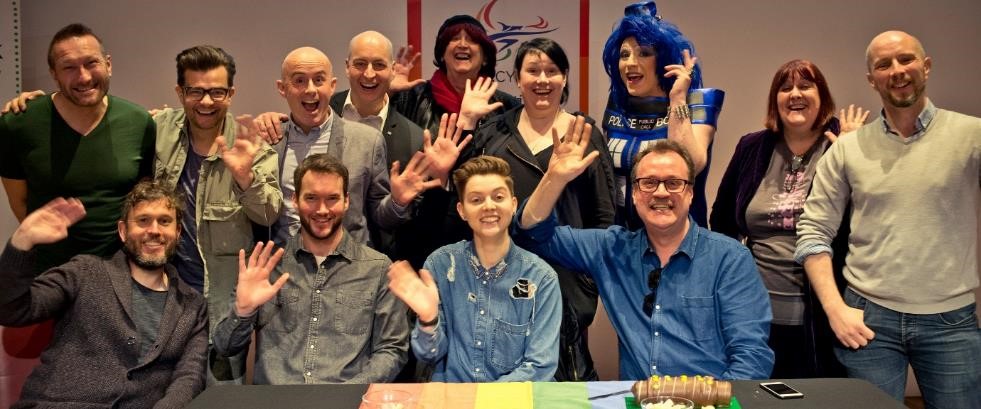 In leading the project, Pride Cymru's intention is to increase understanding and respect and to reduce hate crime. It recognises the role of culture in helping to achieve social justice.
Project activities provided opportunities to explore identity, working with historian Lisa Power, a founder member of Stonewall UK and a secretary-general of the International Lesbian & Gay Association. Participants were able to investigate the worlds of Dr Who and the presence of LGBT+ characters alongside Dr Who cast members and Dr Bev (a keen Who fan and Cardiff drag queen).
"I learned today that if we bring history to life, we can take strength from inspirational people, helping us make the changes we need to make right now."

Henry, Making Our Own World participant
Let me take this moment to wish a very happy LGBT+ History Month to you and your loved ones.
And why not take a look at our new funding framework and think about planning your own inclusive project...